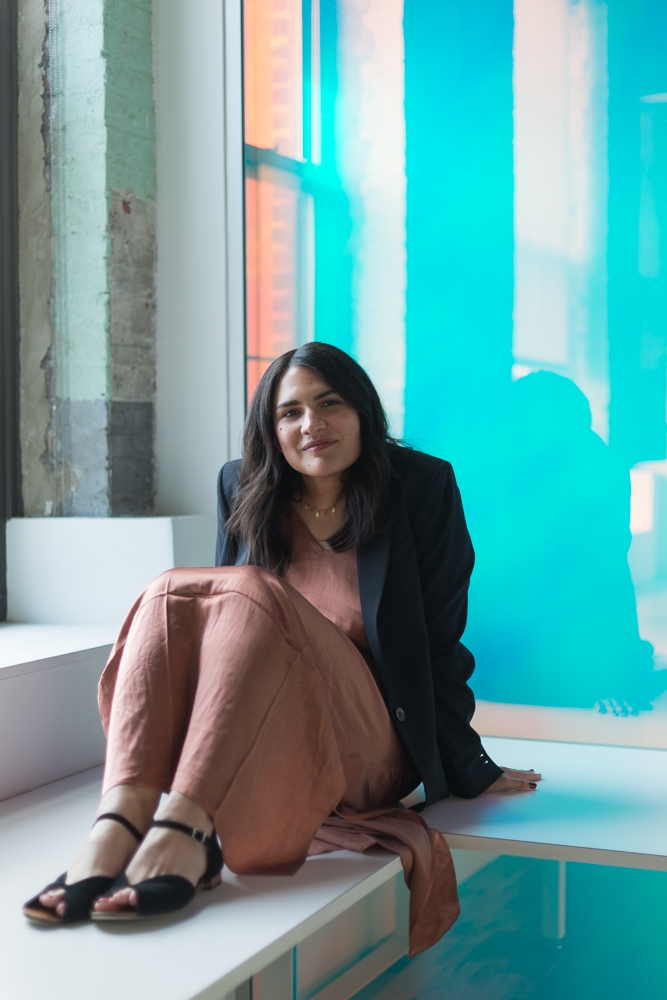 Head of Multiplatform at Genius
Natalie is based in Brooklyn (specifically Fort Greene), New York, and is originally from Miami, Florida and Santo Domingo, Dominican Republic.
Website: Genius (I'm in-house!)
Instagram @natisagee
Photo © Lila Murphy
How did you get started in PR?
I studied writing and film in university; originally, I thought I'd be a cultural critic writing for a magazine like Vanity Fair. I graduated in 2008, precisely when the U.S. stock market plummeted, and I realized that if I wanted to stay in New York, I would need to find a stable job—which writing doesn't always guarantee, especially during those years when publications were slashing budgets and scrambling to figure out their online strategy.
I decided going into PR would be productive—aside from the steady paycheck, I'd learn a lot about how media works, strengthen my communication skills, and I could always do creative writing on the side! I began my first PR job at The Brandman Agency, a boutique luxury travel and lifestyle firm, the summer of 2008. I'm very grateful to them for taking a chance on me, and I got to travel all over the world—an incredible bonus.
How did you find yourself where you are now?
I've been at many different firms since the Brandman days—some specialized in digital strategy, others in crisis communications. I learned very different styles of working at each and interacted with reporters at the top of their game covering a variety of beats—city politics, tech, non-profit, entertainment, you name it. I learned how to do my job with sincerity and massive respect for what the other side has to deal with. Every pitch has to be thoughtful—your job is to represent your company or client well, but also be a resource to the journalist. You also have to know when to leave journalists alone!
While at SKDKnickerbocker, one of the top public affairs and crisis management firms in the country, I met the founders of Genius, the massive lyrics site. I was already a big fan of what they'd built, having used the site many times to look up my fave Mariah Carey's lyrics, and began working with them on business and music stories. I was eventually hired in-house as their first communications chief in the spring of 2015. When I joined the company, we were only about 30 people (we're now 70). It was an incredible window into how building a powerful team really shapes everything for the better.
What does your company do and what is your role within it?
Genius's mission is to reveal the deeper meaning behind music and pop culture. We have the world's biggest artists come through and break down their lyrics alongside fans from around the world. It began with a website, and now we're available on our mobile apps, on Spotify through our "Behind the Lyrics" partnership, our YouTube channel, every major social media channel, and more platforms to come very soon.
I'm now Genius's head of multiplatform, which is a new role for me and also for the company. I oversee strategic content partnerships with existing and emerging platforms. We have a team handling communications on bigger initiatives and they report to me, although I'm still primarily involved with PR for the company day-to-day.
The company was founded in 2009, and we've come especially far in just these last 18 months alone—I'm so proud of what we're doing and the incredible people who work here. I really believe we're putting out some of the best music content the internet has ever seen. It's also still crazy early and the best is still ahead of us.
What are you currently working on?
I'm not at liberty to reveal just yet—I'm putting the comms gag order on myself—but you shall see!
What is a recent success you're particularly proud of?
It was incredibly cool to be part of the launch of our Genius x Spotify "Behind the Lyrics" partnership, which debuted on iOS last year and recently became available on Android.
Helping spread the word about our merch line and Genius Level live interview series was also very dope. All were incredibly well-received by the press and especially by music fans, our biggest audience.
What is most important in your work?
In my current role, specifically: relationships, creativity, good taste, and flexibility.
Always: integrity, communication, follow-through, problem-solving, delegating, and leadership—which also means owning up to your mistakes and admitting when you don't know something. I used to think that was such a taboo for so long, and now I'm a little more forthcoming with raising my hand. No one does anything alone.
How would you say the media landscape in your field has changed since you started in PR?
Too many ways to count! For one, social media is essential. Some of my most rewarding relationships with journalists all started because we interacted on Twitter or Instagram. (Though it should be noted that you should never slide into someone's DMs until you reach a certain level of trust; it's too much!)
With social media, it's nice to be reminded that you can be professional but still reveal your humanity. For example, my Instagram is 100% dictated by my niche interests, like Leonardo DiCaprio movies circa 1993-1998. I'm not a PR robot and hopefully my online persona reflects that.
Generally speaking, the amount of content available these days is overwhelming and my advice to everyone always is to read as much as you can, from as many different places as you can, and think critically about what you're reading. There really isn't an excuse not to be well-informed about a journalist, their past work, and what they cover. That's the fun part of it all, the research.
Where are your favorite places for business meetings or drinks with writers/clients?
If I'm meeting with a fellow woman, it's hands-down The Wing, which was co-founded by my friend Audrey [Gelman], a masterful PR veteran herself. There's just such a good vibe there and everyone makes you feel at home. It's also really exciting for newcomers who may be curious about what it's all about.
If I'm already familiar with the person I'm meeting up with, I like to suggest slightly more involved activities like getting nail art at Chillhouse or going to a new exhibit at a museum.
PR/Communications can be fast-paced and stressful; what is your favorite way of relaxing?
I'm still figuring this out! I don't believe in work-life balance, especially when you're working on the internet. That said, I've always been at my best when I strike healthy boundaries and do things after work that take me out of the grind zone, even just for a couple of hours.
The most effective things for me are going to dance class and watching a movie—I go to Nitehawk and the Alamo Drafthouse in Brooklyn every week, either with friends or by myself. I love movies so much, all the more when you throw in a themed beverage.
I also make time for therapy every week, a practice I began last year and which has helped me tremendously. I'm the kind of person who just soldiers through everything, which can lead to exhaustion and resentment. It's been powerful to have an hour each week where I'm just getting stuff out, no matter how inane it is. My therapist has heard me rant about everything from politics to clickbait.
What are you reading these days?
I'm almost done with Powerhouse by James Andrew Miller, a massive oral history about the rise of Creative Artists Agency (CAA), one of Hollywood's most influential talent agencies. It features interviews with everyone involved, from Michael Ovitz—one of the most powerful agents who ever lived—to big clients like Steven Spielberg and Cher. It's a fascinating look inside the Hollywood machine.
In general, I gravitate more towards nonfiction, and oral histories are my favorite format. Three others I'd like to recommend are I Want My MTV by Rob Tannenbaum and Craig Marks, about MTV's golden years; Meet Me in the Bathroom by Lizzy Goodman, about the NYC music scene circa 2001-2011; and Edgewise: A Picture of Cookie Mueller by Chloé Griffin, about the life and death of the prolific underground writer, actress, and artist Cookie Mueller, as told through her closest friends and collaborators. I definitely have a type when it comes to books.
My favorite website to read on the daily is LaineyGossip, which has the smartest celebrity commentary around and is where a lot of so-called pop culture critics pull their stuff (trust me). My favorite subscription is to Vanity Fair since it covers all the things I care about—the entertainment industry, politics, glamour and true crime—and I'll occasionally check all the prestige outlets like The New York Times, New York Magazine, The Washington Post, and New York Post's Page Six, of course.
What are you listening on repeat these days?
To be real, if it wasn't for working at Genius—which keeps me young—I'd be stuck inside my bubble of old music and late '90s/early 2000s pop. My favorite artists of all-time are Stevie Wonder, The Beach Boys, Shuggie Otis, The Clash, Prince, every Motown artist who has ever lived, the Red Hot Chili Peppers and John Frusciante, all '70s-era disco, and Britney Spears. I'm a veritable scholar on Mariah Carey and even detailed her life story (in lyrics) for Genius. It was basically my PhD.
I'm obsessed with Max Martin and want to write a book on his legacy one day—he's written for the Backstreet Boys, Ace of Base, Britney, 'N Sync, Kelly Clarkson, and now Taylor Swift and Katy Perry. He literally invented a certain sound. I also have a soft spot for The Strokes, having interned for them in my early NYC-dwelling life—Julian Casablancas is an incredible songwriter, and Is This It is a staple that I return to every couple of years. It's flawless.
My favorite album of the year (so far) is SZA's CTRL. There's a song for every emotion. She even has a track named after Drew Barrymore. That's how I know we're on the same nostalgic wavelength.
Here's a playlist with all my stuff: natwave on spotify. I'm a fan of variety.
I'm also a voracious podcast consumer—I'm subscribed to, like, 50 of them—and my favorites are Who? Weekly (everything you need to know about the celebrities you don't!), Sword and Scale (it's a true crime podcast that I can't listen to after dark), and StartUp (a no-holds-barred look at how companies are built).
What is the next event/concert you're the most looking forward in the next months?
Britney Spears at her Las Vegas residency, Piece of Me! I've been waiting for years and I need to get my sh-t together since it (allegedly) closes this year. I'm still reeling from having met the Backstreet Boys at their Las Vegas residency this past spring. It's all about the millennial legacy acts for me. I love reliving my childhood.